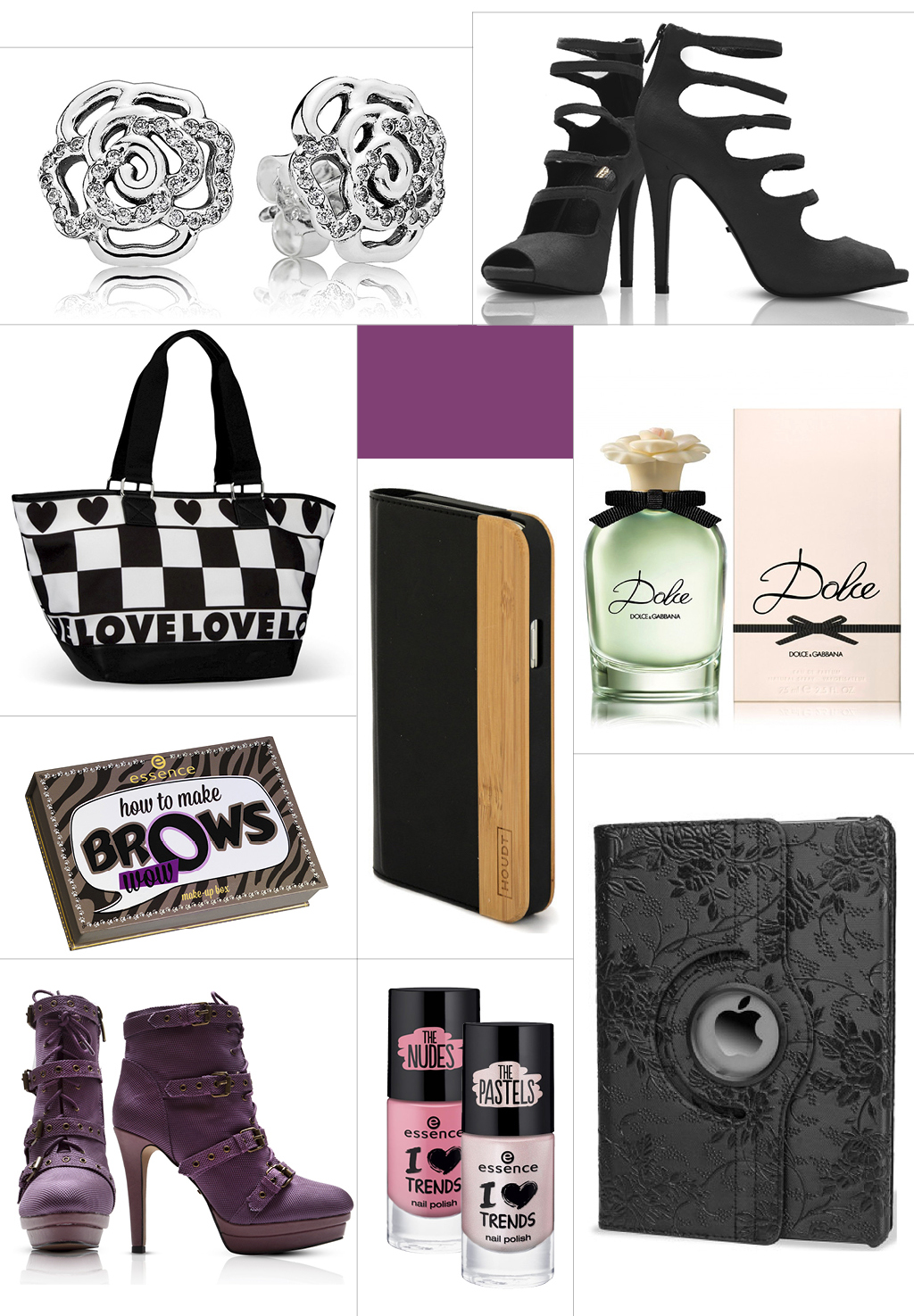 9 smouldering accessory ideas to add some heat and create a lasting impression.








Protect your iPad Air 2 with this on-trend floral embossed black case that includes a rotating viewing stand – ideal for watching movies! Made from durable and quality material, the ridges allow you to adjust the angle to suit your needs and provide steady support.
Sturdy but stylish protection
Hit the city's hottest nightspots in this pair of Errol Arendz Cocab heels. Crafted in leather suede (uppers), these 9 cm heels will not only give you extra height but will also raise your social standing. Thin straps over the foot and a peep-toe give these shoes mega sex appeal.

Suggested price: R1 490.00
From: Errol Arendz, but you can contact them through their Facebook page or

phone 021 461 1385 or the Ready to Wear Store at 021 461 6596

Like us, you'll fall in love with this fabulously stylish two-tone fabric and faux leather double-handed bag from Moschino. Its roomy interior with internal zip pocket provides enough space to hold all your usual handbag items plus those extra winter musts like scarf and gloves.

Fire up the romance with these stunning cubic zirconia and silver stud earrings from Pandora's Shimmering Rose Garden collection. Inspired by nature's floral offerings, the collection symbolises beauty and love.

Suggested price: R999.99
From: Pandora stores countrywide, visit www.pandora.net for more information.

Quick, before we keel over with excitement: OPI is giving away the ultimate Aloha hamper to one lucky lapelle reader. It includes three nail colours from their Hawaii range, Start-to-Finish (base coat, top coat and strengthener), a Soothing Refreshment set (with Exfoliating Cuticle Treatment, Cuticle Oil and High-Intensity Hand & Nail Cream) and Double Coverage foot cream. Yes please!

These trendsetting Errol Arendz Caroli boots in grape with snazzy buckles and lace-up fronts are sure to add some extra "zhoosh" to your winter footwear collection. The genuine leather uppers and 10 cm heel will make you feel like a celebrity when you step out in this creation from one of South Africa's most iconic designers.
Suggested price: R1 790.00
From: Errol Arendz, but you can contact them through their Facebook page or
phone 021 461 1385 or the Ready to Wear Store at 021 461 6596
Dolce & Gabanna's Dolce Eau de Parfum spray is a perfect blend of fresh floral and full-bodied, opulent scents. This distinctive fragrance makes use, for the first time in the creation of scent, of South Africa's white amaryllis flower, which is artfully combined with white water lily and white daffodil to produce this delicate and classic perfume.

Suggested price: R840.00
From: Red Square or phone 011 495 6304

If your brows are behaving badly and are out of shape, you're definitely in need of the How to make Brows Wow make-up kit. This trendy new product from Essence neatly packages everything you need to beat your brows into submission. It includes three colour powders (for blonde, brunette and black hair), a highlighter powder, applicator, tweezers and a mirror as well as a styling card to help you create perfectly curved eyebrows.

Suggested price: R115.00
From: Essence South Africa, phone 021 534 0287 for a list of stockists, or contact them through their Facebook page

Dermaheal Hydrating Sunscreen SPF 30
Just because winter's approaching doesn't mean the sun's any less dangerous. Dermaheal Hydrating Sunscreen offers broad-spectrum UVA and UVB protection, irrespective of the season and weather conditions. Packed alongside some handy additional anti-ageing antioxidants, it offers maximum protection against the formation of free radicals (ROS) when used during the day.







Hot looks

for the cold season

When nature meets technology, a thing of beauty is created. You too can own a beautiful, warm and earthy accessory like this Samsung S5 Houdt Bamboo Flip Cover. Inspired by nature, Houdt produces a range of extraordinary and elegant wooden accessories for smart devices. The Bamboo Flip Cover not only provides long-lasting protection for your phone but ensures that the environment smiles on your informed choice.

Feel great and groomed this winter with Essence's I love trends nail polish available in nude and pastel. The added long-lasting formula provides extra staying power to ensure your nails always look good and fabulous.
Suggested price: R34.95
From: Essence South Africa, phone 021 534 0287 for a list of stockists