Whether you prefer the gentle purring of a feline friend or Fido's eager yaps to welcome you home from work, cats and dogs the world over offer their humans unconditional love and friendship. But does the fact that you may prefer one to the other say anything about you? Opinions are divided whenever this question surfaces. And it comes up quite often.
It's to do with habits and choice of habitat
In May last year, Denise Guastello, an associate professor of psychology at the Carroll University in Waukesha, Wisconsin (one of the US's most notably cat-loving states), revealed the findings of her study on pet-owner personalities at an annual meeting of America's Association for Psychological Science. She says that the differences in personality types between cat and dog lovers correlates directly with the kind of environments they prefer. Dog lovers tend to be outdoorsy whereas cat lovers tend to prefer staying indoors. This study also showed that cat lovers scored higher on intelligence than dog lovers. Additional findings were that dog people tended to be livelier, extroverted and rule followers. Woof! Cat lovers, on the other hand, were found to be more sensitive than dog people. Meow! Okay, let's not get catty now, but are we barking up the wrong tree?
Think you can handle the truth?
We went in search of more polls and studies on the topic, and found two good ones online. The first is Psychology Professor at the University of Texas, Dr Samuel Gosling's famed 2010 study using the "Big Five" personality dimensions – the standard used by psychologists to analyse personalities of their patients. And the second is a famed online poll from the now-defunct website Hunch.com – fortunately, the information and findings are still readily available online.
Click the images below to open the slideshow and see what the studies said:

Do you agree or do you see things differently? Cat person, dog person, both or neither, we'd love to hear from you: ed@lapelle.co.za

So, what have we learned?
It turns out that the truth about cat people and dog people is that there's no clear answer: there may or may not be a few broad personality traits we'd like to assign to either party. But, it may be only in our heads, which is okay, too. Because even if we think we are different in some ways, we're all united in the fact that we love and care for our pets, whatever their species.

Let's ask a doctor
We just couldn't leave this topic there, which is why we asked celebrity psychologist, radio and TV talk show host, Dr Dorianne Weil, aka Dr D, for her opinion. Check out The truth about cat people and dog people.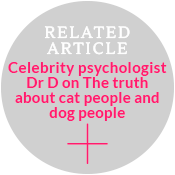 "Dogs have owners, cats have staff."
Ask the lapelle team
Of course we couldn't leave it there, so we did our own mini survey among some of the lapelle team. Twelve of us participated:
• 5 dog people
• 3 cat people
• 3 who said both
• 1 who said "neither"
Click the images below to open the slideshow and see the results of our survey:
"Dogs come when they're called; cats take a message and get back to
you later."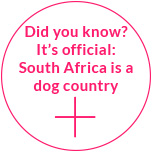 Dogs are from Pluto, cats are from Jupiter (or Uranus, depending on whom you ask). But are there any marked differences in the personality types in people who prefer either as a pet?
It's official: South Africa is a dog country
The internet exploded toward the end of 2014 when London-based market intelligence firm Euromonitor released this world map, showing that in some countries one pet outnumbers the other, leading to the label: "cat country" or "dog country".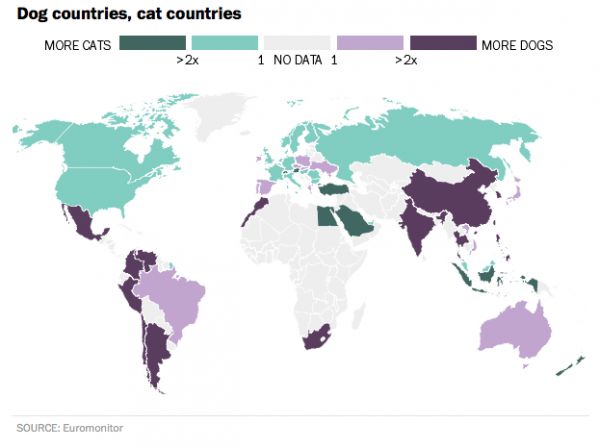 South Africa is clearly a dog country, with 9,1 million dogs to our measly 2,4 million cats. But then there were anomalies: the United States, for example, had more households owning dogs than cats, but individual cats far outnumbered dogs (by 2 million, in fact), and so the USA became a cat country.

Australia, Japan and Spain seem rather well balanced, but loads of countries are extremely polarised. It also seems that, except for Indonesia, most of the southern hemisphere countries are dog countries. The north, except for China and India, are cat countries.
The Washington Post did an interactive version of this map. Find it here.